Oceanographic and Marine Meteorological Observations by Research Vessels
Oceanographic and marine meteorological observations are conducted in the western North Pacific and in the seas adjacent to Japan by two JMA research vessels named Ryofu Maru and Keifu Maru. Background marine pollution and greenhouse gases are also observed. For details of the data provided on this website, please refer to Description and Format of Data.
Observation Data
Point to one of the seasons below to display all observation tracklines for the season. Clicking on the season shows a list of observation cruises for that period in the table on the right.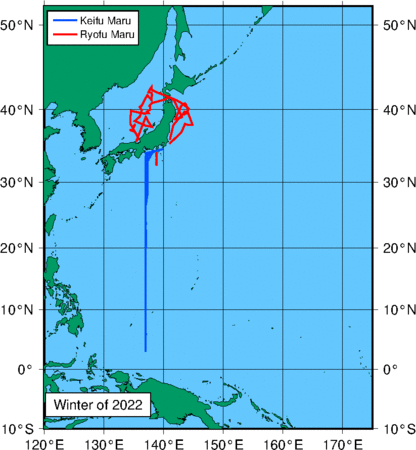 Pointing to a ship name displays its trackline in the figure on the left. Click on the ship name to view the station chart and observation data of the cruise.
Winter of 2022
| Ship Name | Cruise No. | Observation Area | Start Date | End Date |
| --- | --- | --- | --- | --- |
| Ryofu Maru | 2201 | East of Honshu and the Sea of Japan | 26 Jan. 2022 | 13 Mar. 2022 |
| Ryofu Maru | 2202 | South of Honshu | 19 Mar. 2022 | 26 Mar. 2022 |
| Keifu Maru | 2201 | The western North Pacific | 08 Jan. 2022 | 13 Feb. 2022 |
JMA Data Report of Oceanographic Observations Special Issue is preserved by the National Diet Library's Web Archiving Project (WARP). (Go to the WARP page.)