Climate Report over Japan
Monthly Highlights
- Monthly mean temperatures were above normal in western Japan and significantly above normal in Okinawa/Amami, because warm-air, associated with the stronger Tibetan High, covered the regions.
- Monthly precipitation amounts were significantly above normal on the Sea of Japan side of northern/eastern Japan and on the Pacific side of northern Japan. Monthly sunshine durations were below normal in all regions of northern/eastern Japan. These wet conditions in the northern/eastern Japan were mainly caused by stationary fronts and moist air inflow in early and middle of the month.
- Meanwhile, in Okinawa/Amami, monthly precipitation amounts were significantly below normal and sunshine durations were significantly above normal because the Pacific High covered the region.
Climate Anomaly Table Over Japan
Monthly Climate Anomaly over Japan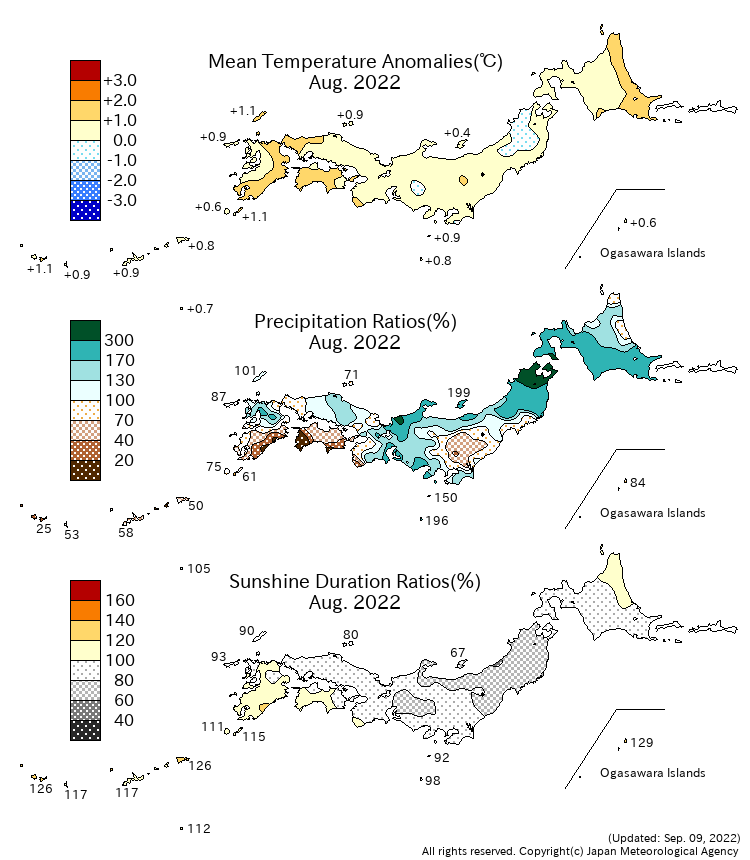 Time Series of Temperature Anomaly
Time Series of 10days Precipitation Amount Ratio and Sunshine Duration Ratio
10-day Mean Sea Level Pressure
10-day Mean 850hPa Temperature
10-day Mean 500hPa GeoPotential Height
10-day Mean Outgoing Longwave Radiation