Global ocean heat content
Updated on 21 Feb. 2022
Japan Meteorological Agency
An increase in the globally integrated ocean heat content (0 – 2000m) was observed from 1955 to 2021 with a linear trend of 5.98 × 1022 J per decade.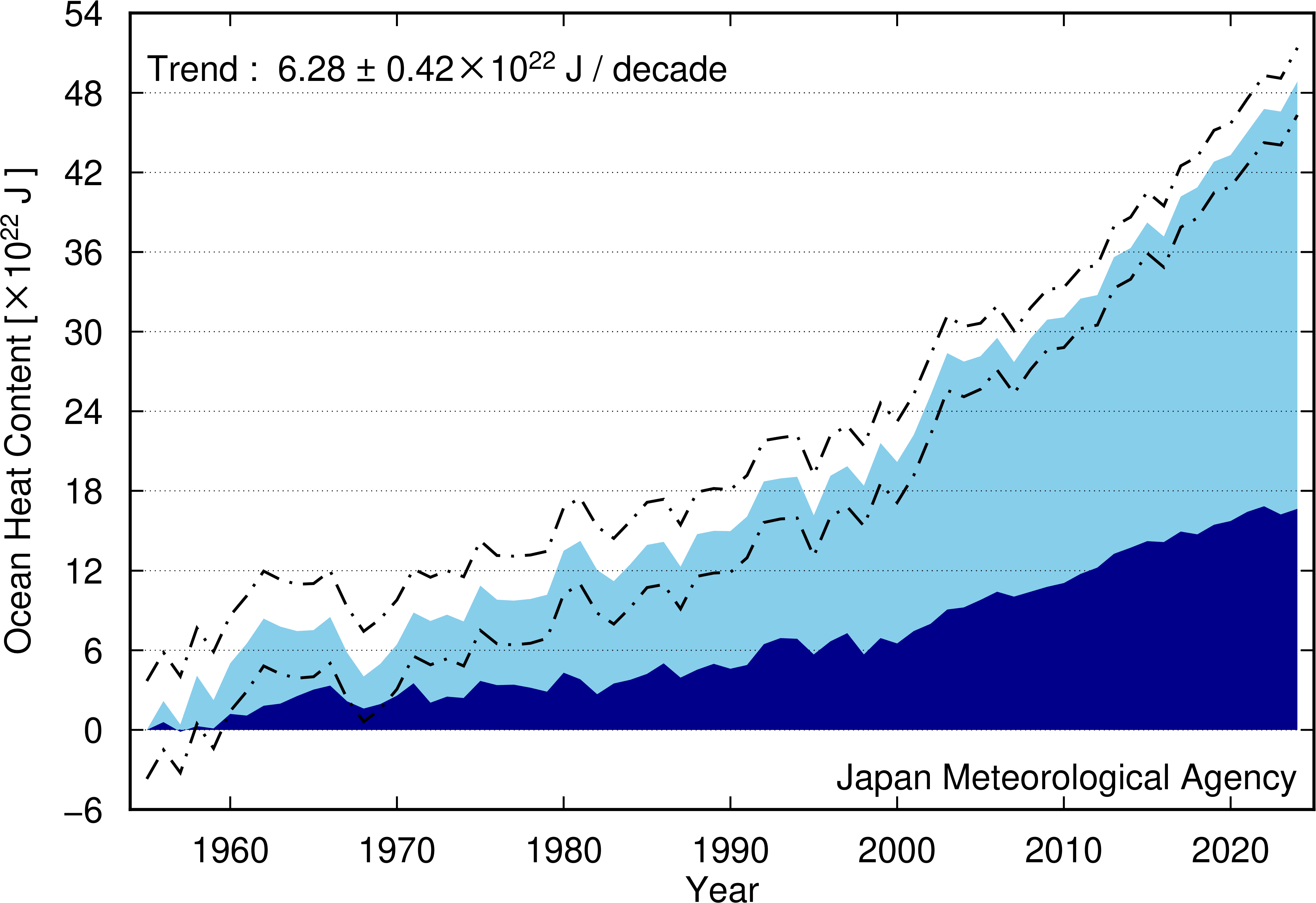 Time series representation of the globally integrated ocean heat content (0 – 2000m) relative to 1955

The light (dark) blue area shows the annual mean for the global integrals of 0 to 700m (700 to 2000m) ocean heat content relative to 1955, respectively. The dot-dashed lines indicate a 95% confidence level for ocean heat content above 2000m. These data are updated from Ishii et al. (2017).
Heat content anomaly time series (txt file:4KB)
Analyzed global fields (ASCII files)
temperature/salinity analysis data (GRIB2 and text files) [Meteorological Research Institute]
The values here may be replaced as new data is obtained.
Commentary
Oceans have a significant impact on the global climate because they cover about 70% of the earth's surface and have high heat capacity. According to the Intergovernmental Panel on Climate Change Fifth Assessment report (IPCC, 2013), more than 60% of the net energy increase in the climate system from 1971 to 2010 is stored in the upper ocean (0 – 700 m), and about 30% is stored below 700 m. Oceanic warming results in sea level rises due to thermal expansion, and impacts marine ecosystems.
It is virtually certain that globally integrals of 0 to 2000m ocean heat content (OHC) rose between 1955 and 2021 at a rate of 5.98 ± 0.41 × 1022J per decade as a long-term trend with interannual variations (the range indicated by '±' represents a 95% confidence level). A rise of 0.021 ± 0.001°C per decade in the globally averaged 0 to 2000m ocean temperature accompanied the OHC increase. Oceans exhibited marked warming since the mid-1990s.
These long-term trends can be attributed to global warming caused by increased concentrations of anthropogenic greenhouse gases such as CO2 as well as natural variability.
Link
Reference
IPCC, 2013: Climate Change 2013: The Physical Science Basis. Contribution of Working Group I to the Fifth Assessment Report of the Intergovernmental Panel on Climate Change [Stocker, T.F., D. Qin, G.-K. Plattner, M. Tignor, S.K. Allen, J. Boschung, A. Nauels, Y. Xia, V. Bex and P.M. Midgley (eds.)]. Cambridge University Press, Cambridge, United Kingdom and New York, NY, USA, 1535 pp.
Ishii, M., Y. Fukuda, H. Hirahara, S. Yasui, T. Suzuki, and K. Sato, 2017: Accuracy of Global Upper Ocean Heat Content Estimation Expected from Present Observational Data Sets. SOLA, Vol. 13, 163 – 167, doi:10.2151/sola.2017-030.