Satellite operation plan for Himawari-8/9 (As of Octorber, 2014)
In order to provide continuous observation, JMA successfully launched Himawari-8 in October 2014 and plans to begin its operation in mid-2015. To ensure the robustness of the satellite observation system, the launch of Himawari-9 is also scheduled for 2016. JMA will continue to operate Himawari-8 and -9 at around 140 degrees east covering the East Asia and Western Pacific regions, as with the GMS and MTSAT series.

Schedule for Himawari satellites.
Plan for transition from MTSAT-2 to Himawari-8 (As of Octorber, 2014)
i) JMA plans to switch over satellite operation from MTSAT-2 to Himawari-8 in the middle of 2015 and to re-orbit MTSAT-1R in December 2015.
ii) MTSAT-2 imagery is currently disseminated directly via MTSAT-1R. JMA plans to continue this arrangement after the operational satellite switchover until around November 2015 in order to give users time to prepare for Himawari-8 data reception. As the direct dissemination service will no longer be provided after this time, users should ensure that their systems are ready to receive satellite data without interruption.
iii) JMA started its HimawariCast service in January 2015. HimawariCast is providing MTSAT-2 imagery now, and Himawari-8 will replace it once it becomes operational. HimawariCast users will be able to receive MTSAT-2 and Himawari-8 imagery seamlessly.
iv) JMA plans to distribute pre-operational Himawari-8 imagery from the second quarter of 2015 via an Internet cloud service. The service will become operational with no change when Himawari-8 takes over from MTSAT-2.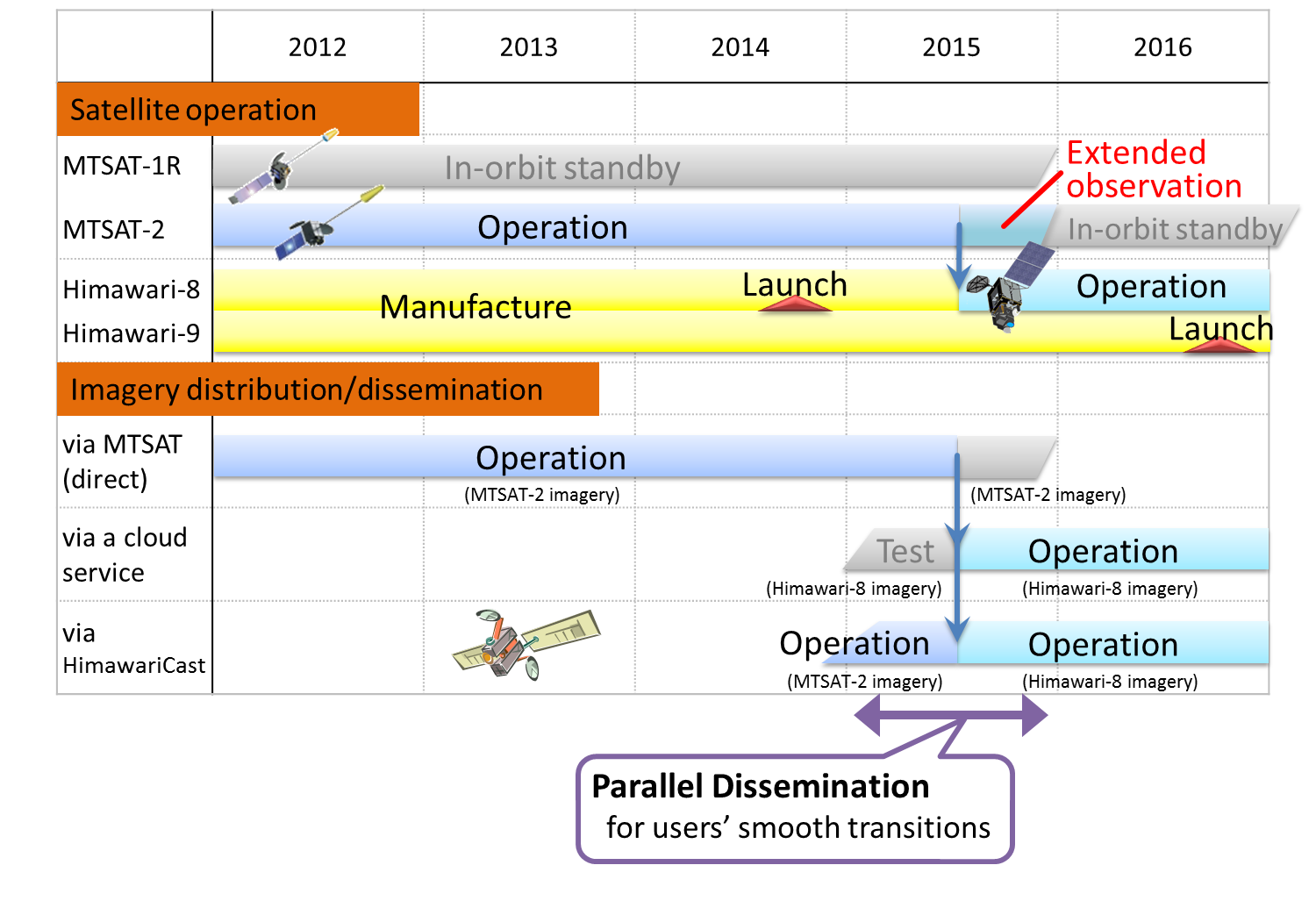 Schedule for transition from MTSAT-2 to Himawari-8.